Introduction to the conferences 1998-2008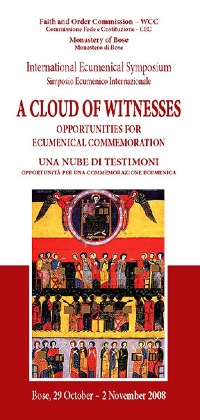 A Cloud of Witnesses:
opportunities for ecumenical commemoration
Bose, 29 October - 2 November 2008
I santi e i martiri – o,
più semplicemente, i "testimoni" cristiani
che hanno condotto una vita esemplare –
possono contribuire a unificare
le Chiese nelle quali sono nati?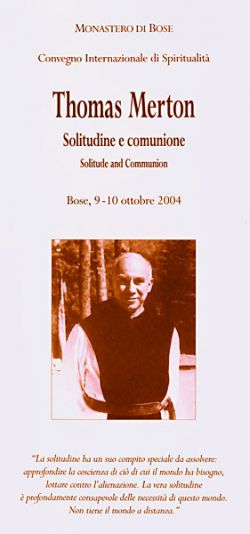 Thomas Merton
Solitude and Communion
Bose, October 9-10, 2004

"La solitudine ha un suo compito speciale da assolvere:
approfondire la coscienza di ciò di cui il mondo ha bisogno,
lottare contro l'alienazione.
La vera solitudine
è profondamente consapevole
delle necessità di questo mondo:
Non tiene il mondo a distanza."


The Eloquence of Life according to the Gospel

Bose, May 24-26, 2002
"Ecco il segreto della mia vita:
ho perduto il mio cuore per quel gesù di Nazareth
crocifisso

1900 anni fa..."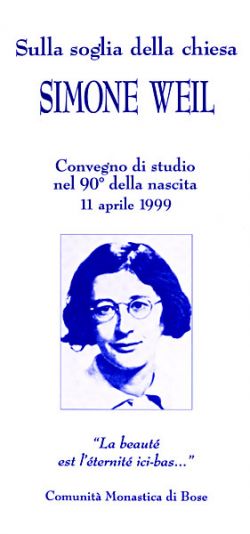 On the Threshold of the Church
Simone Weil
Bose, April 11, 1999

" Per me la prova, la cosa veramente miracolosa,
è la perfetta bellezza dei racconti della Passione,
insieme ad alcune parole folgoranti di Isaia :
"Ingiurato, maltrattato, non aprì la sua bocca"
e di san Paolo:
"Non ha considerato l'uguaglianza con Dio come un bottino..
Egli si è svuotato...
Si è fatto obbediente fino alla morte, e alla morte in croce...
È stato fatto maledizione"
È questo che mi costringe a credere".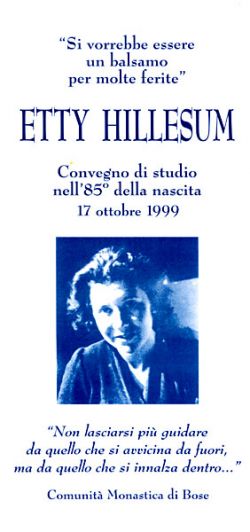 Hetty Hillesum
Bose, October 17, 1999
"Non lasciarsi più guidare
da quello che si avvicina da fuori,
ma da quello che si innalza da dentro..."


di celestiali eremiti
il cui fiato vivente brucia le pagine:
Antonio l'Egizio, Pacomio, Pier Damiano..."
For information and contacts:
Conferences Secretariat
Monastery of Bose
I-13887 Magnano (BI)
Tel. +39 015.679.185
Fax +39 015.679.294
e-mail: This email address is being protected from spambots. You need JavaScript enabled to view it.