Workcamps for young people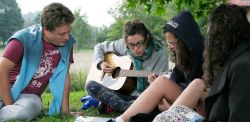 Work activities are organised for the mornings and in the afternoons meetings are planned to discuss the Bible as well as the opportunity of meeting with some of the brothers and sisters of the community.
Arrival atBose for the above workcamp experiences is on Sunday afternoon with departure after lunch on the following Saturday.
Each day follows the rhythm of the liturgical prayers.
There is no charge for the above.
Workcamps are open during all summer. You can partecipate contacting the hospitality.