2008 - Repentance, Conversion, Reconciliation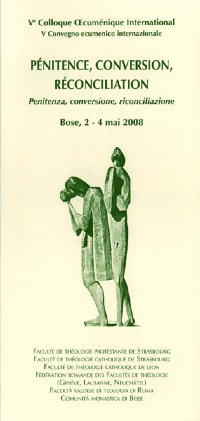 Bose, 1-4 May 2008
5th International Ecumenical Conference on Protestant Spirituality
In collaboration with Theology Departments of the Universities of Strasbourg, Lyon, Geneva, Losanne, and Neuchâtel
Penitence, conversion, reconciliation
Bose, 2-4 May 2008
The topic was treated in an ecumenical perspective according to the classic approach, beginning with Biblical data, then in succession dealing with history, theological systematization, ethics, and practical theology. After a look at the Old Testament and the Pauline letters, the theme was treated according to historical periods: developments in the patristic age, conflicts in the medieval period before the Reform, the understanding of penitence among the Reformers, Roman theology after Vatican II. The Systematic theology and ethics were examined from two confessional angles, Catholic and Protestant. Finally, an ecumenical approach was offered through an ample presentation, given by a delegation of seven representatives, of what the Dombes Group has done regarding the topic of the conversion of the Churches, central for the unity of all Christians.
Vth International Ecumenical Conference
on Protestant Spirituality
Thursday 1 - Sunday 4 May 2008
Repentance, Conversion, Reconciliation
In collaboration with
Faculté de théologie protestante de Strasbourg
Faculté de théologie catholique de Strasbourg
Faculté de théologie catholique de Lyon
Fédération romande des Facultés de théologie
(Genève, Lausanne, Neuchâtel)
Facoltà valdese di teologia di Roma
Monastero di Bose
PROGRAM
________________________
Friday 2 May
9:00 am
Opening of the Conference
Biblical approach
Repentance and Conversion
in the Prophecies of the Old Testament
Luciano Manicardi (Bose)

Why and How Paul Speaks of «Reconciliation»
Andreas Dettwiller (Geneva)
Work in groups
3:30 pm
Historical approach

Which Models for Thinking
the Sacrament of Reconciliation in the Middle Ages?
Didier Gonneaud (Lyon)

Catholic Penitential Practices in the Last Two Centuries
Daniel Moulinet (Lyon)

Do We Need Penance?
Hans-Christoph Askani (Geneva)
Debate and discussion
8:30 pm
For the Conversion of the Churches.
The Work of the Dombes Group
Matthias Wirz (Bose)
Roundtable with the members of the Dombes Group attending the Conference
________________________
Saturday 3 May
9:00 am
Pastoral approach

The Sacrament of Reconciliation. A Catholic Approach
Jean François Chiron (Lyon)
Penance and Confession
as Themes of Pastoral Theology in the Reformed Churches
Ermanno Genre (Rome)

Penitential Practices in the Orthodox Churches
Aurélien Marinescu (Strasbourg)
Debate and discussion
3:30 pm
Ethical approach

Conversion and Sanctification
Karsten Lehmkühler (Strasbourg)

Dialogue, Reconciliation, and Gratitude
Yves Labbé (Strasbourg)
Work in groups
________________________
Sunday 4 May

9:30 am
Conclusions
André Birmelé and Michel Deneken (Strasbourg)
General discussion